1983 Stiletto 27 - Standard
SOLD
"Trouble" is a 1983 standard Stiletto - With Upgraded Harding Trailer
Location: Wayzata, Minnesota
This boat was purchased new in 1983, put in a barn and never assembled or sailed till it was resold in 1999, and brought up to Minnesota. It has only sailed on freshwater lakes its whole life. I purchased it from this owner in 2001 and refurbished it.
This boat is in great condition for its age as 16 years of it were in storage and the rest were sailed 5 months of the year on freshwater.
This boat is an icon on Lake Minnetonka.
2 Mains Fair condition (Not suitable for racing)
2 Reachers. one a lightweight fabric in good cond. The other is a heavier fabric and in great condition.
Brand new bottom paint and on the trailer ready to go sail anywhere.
Rudders are fiberglass over foam great shape. (Stock)

The centerboard is fiberglass over foam great shape. (Stock)

Canopies have a NO CRACKS and were replaced in 2001 to the stock upgraded ones.

Forward hatches are upgraded to Lewmar and in great shape.

Trampoline replaced in 2016

Factory Anchor Well/Locker

The boat has electrical, LED Nav lights, Interior lights, battery voltage gauge, Battery cut off, Solar, VHF with remote mic.

Autohelm 100 autopilot

Nice DSC VHF with remote mic and masthead antenna. Deep cycle battery.

2 - deck winches for spinnaker/reacher

Sheets, halyards, blocks tackle in great shape.

Standing rigging replaced and in great shape.

The boom in great shape (A few scuffs from the rotator)

Paint is in good shape (A few nicks and scratches / Dock rash)

The boat has factory aluminum rub rails (A must-have on a Stiletto)

Pipe berths in each hull along with floorboards.

Interior buck cushions in great shape.

Hard deck seat cushions in good shape (couple finger-sized tears).

1999 Suzuki 15hp 4stroke long shaft, High Thrust, outboard with electric start and charger.

Motor mount Upgraded with splash arrestor/guard (Stiletto Designed and built)

Stock Harding Trailer, upgraded tires with modifications for easy launching.
Note, during the "Flip" before I purchased it, the mast got damaged ( https://www.wildjibe.com/portfolios/view.php?uid=26 ), It was professionally repaired. I thought
I would end up replacing it and acquired a never used F28 R Anodized Aluminum extrusion (28') to make a "Turbo" rig (2 feet taller).
I purchased spreaders and rigging for them from Corsair and started to assemble parts to do this.
But I never got around to it and the mast repair has held up great. This mast extrusion and extra hardware, are included in the price.
This boat gets LOTS of stares and a gathering when it pulls in to marinas.
I've never raced it because the local yacht club does not have a multihull class.
The reason I'm selling is that the Club Commodore bumped me off my mooring for a Monohull that races, even though the mooring ball never got used this year!
I've sold my house and am going to buy a bigger catamaran to start a new chapter.
$11,000
Photo 1
For Sale Stiletto Catamaran
Photo 2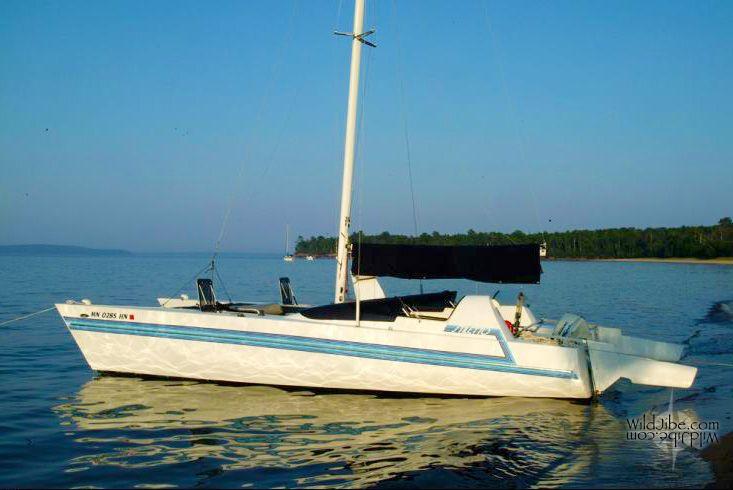 For Sale 1983 Stiletto 27 standard
Photo 3
For Sale Stiletto 27 Catamaran
Photo 4
Sunset
Photo 5
Light Breeze
Photo 6
Beached
Photo 7
Stiletto Catamaran Interior
Photo 8
Starboard
Photo 9
Stiletto_Catamaran_27_For_Sale
Photo 10
Apostle Island Camping
Photo 11
Sunset
Photo 12
Main
Photo 13
Stiletto_27_Catamaran_For_Sale
Photo 14
Perfect Day
Photo 15
Outboard
Photo 16
Corsair F28 Anodized Mast Extrusion